Roll over image to zoom in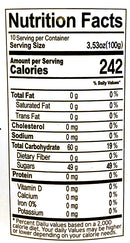 Description
Korean Citrus Honey Tea - a blend of high-quality honey and refreshing citrus fruits from Korea. This tea is the perfect balance of sweetness and tanginess, providing a refreshing and revitalizing experience with every sip.

Our Korean Citrus Honey Tea is made with pure honey from the pristine Korean countryside and carefully selected citrus fruits. The tea is carefully crafted to ensure that the flavors of each ingredient are perfectly balanced, resulting in a delicious and wholesome beverage that is perfect for any time of day.

This tea is not only delicious, but it also offers a range of health benefits. The natural antioxidants found in citrus fruits help to boost the immune system and promote healthy digestion. The tea is also a great source of vitamin C, which is essential for maintaining good health.

Whether you're looking for a warm and soothing drink on a cold day, or a refreshing pick-me-up on a hot summer afternoon, our Korean Citrus Honey Tea is the perfect choice. So why not treat yourself to a cup today and experience the delicious and refreshing taste of Korea?
Payment & Security
Your payment information is processed securely. We do not store credit card details nor have access to your credit card information.